Here at Velvet Blues, we are very critical of new websites, and even more so when they aim to reinvent their niches. But recently, we came across a unique new website, with a great concept and implementation, that might do just that. It's called Bar Native.

Appropriately named, BarNative.com is a website that connects visitors to bar specials, in an attempt to help them "drink like a local", and get the best drink deals in their area. And yes, this is where Bar Native excels; the search tool is extremely successful at matching users to the specials they want. Bar Native also plans to be more than a drink specials website, and features upcoming event listings and a blog.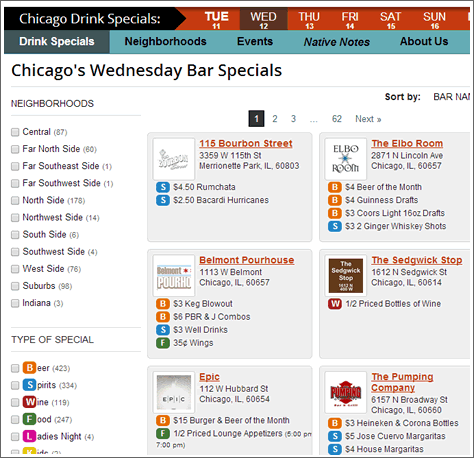 (screenshot of Specials page)
What's Next For Bar Native?
Recently launched on March 1st, Bar Native has only been rolled out in one market, Chicago. However, we've spoken to the owners, and plans for expansion are already in the works. Until then, their list of specials, which has almost reached 9000, will only continue to grow.
With a relatively quiet launch, this website almost slid in under the radar; but we think we know a winner when we see one. Check it out and let us know what you think in the comments. We'll be following the progress of this website and are interested to see what happens next
Tags:
website spotlight