FeedBurner is a great way for bloggers to manage and promote their RSS feeds. With very little effort, a blogger can use the free FeedBurner service to add a subscription form to their websites and automatically send out regular email digests of new content as it is published on their blogs. Other popular features include traffic analysis and advertising via Google Adsense. But one underused and often unknown feature is the ability to customize FeedBurner emails.
In this article, we highlight key ways you can change the look and feel of your FeedBurner subscription emails.
3 Ways To Customize Your FeedBurner Emails
FeedBurner offers several simple email branding options:
Email Subject/Title: A unique email subject and content header for your subscription emails. There is also an option to use a different subject/title for emails that contain multiple items.
Logo URL: Absolute url to your blog logo
Fonts/Sizes/Colors: You can customize headline font and font size, as well as body font and size, and link color.
Where can you find this customization panel?
After logging into your FeedBurner account, the email branding panel can be found by going to: Publicize → Email Subscriptions → Email Branding.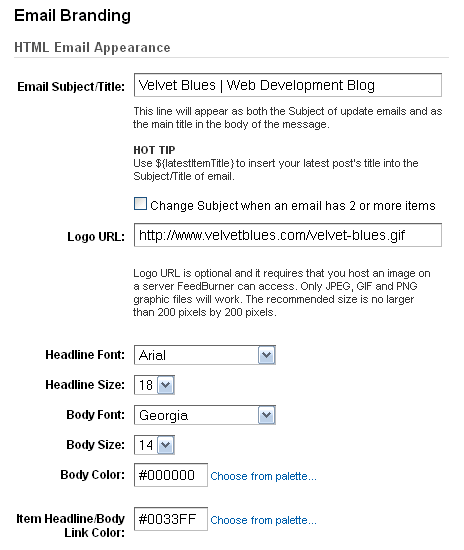 Once you are done customizing the email, you can see what it looks like via the HTML Email Preview below the panel.
Tags:
blogs
,
email
,
email marketing
,
FeedBurner