When it comes to web browsers, Microsoft's Internet Explorer has enjoyed many years of near dominance. In fact, the current statistics report that nearly three-quarters of web surfers use Internet Explorer. But things are rapidly changing. Although Internet Explorer still remains the most popular browser, usage has steadily decreased since 2002, when 95% of internet users used the browser.
So what is the reason for the steady decline in usage? Mozilla Firefox. In only a few years, Firefox has become the second most popular browser, used by almost 1 in 5 web surfers.
In this article, we discuss how Internet Explorer has maintained such great popularity among web surfers, as well as the advantages and disadvantages of using Firefox as an alternative browser.
Why Is Internet Explorer Popular?
Internet Explorer is popular because it is the default browser that comes pre-installed on Windows operating systems. (Windows is a Microsoft product, and most computers run the Windows operating system.)
Additionally, many websites — including Microsoft's website which delivers product updates — require visitors to have Internet Explorer in order to use the advanced applications and applets. Clearly, Microsoft has been very clever to ensure that its web browser will continue to outperform others in terms of use.
What Can Firefox Offer You?
As for Firefox, it has become popular over time due to its speed, features, and plethora of optional add-on extensions. Some standard features include a spell checker, download manager, customizable skins, and live bookmarking. Firefox also has an extension repository featuring a wide variety of add-ons that can be submitted by third party developers and downloaded by the general public.
But one of the most celebrated features is security. Unlike Internet Explorer, Firefox developers regularly address vulnerabilities and release patches when necessary.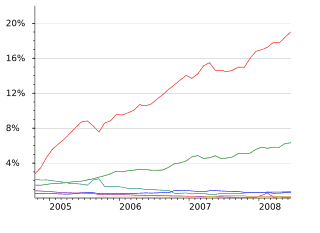 On the other hand, Internet Explorer is not known for security. Instead, its flaws and loop holes are regularly exploited, making your computer easy prey for malicious websites and hackers.
The graph at left shows the increasing popularity of Firefox (red line). The green line shows the increasing popularity of Safari, most likely due to the increased popularity of Mac OS on which Safari is the default browser. (Image Credits: Wikipedia, Mozilla Firefox)
So, Which Should You Choose?
Your choice of browsers depends on which operating system your computer runs:
Mac Users
Definitely opt for Firefox. If that is not your cup of tea, be sure to try out other popular browsers such as Apple Safari or Opera.
Windows Users
Unfortunately, for Windows users, you do not have the luxury of choosing one browser over the other. You will need both. Firefox, for example, would be the predominant browser, allowing you countless features and unparalleled security. And Internet Explorer would be simply used for obtaining Microsoft updates.
And so, the battle between the browsers rages on. Will Firefox be able to dominate web space? Probably not. As long as Microsoft Windows remains the preferred operating system, Internet Explorer will continue to be a predominant browser.
Even more interesting, with every version of Internet Explorer the differences between the two browsers lessen. Who knows, in a year or two, we might be advocating everyone to jump on the Internet Explorer bandwagon!
By the way, Firefox 3.0 was recently released. Get this latest version by clicking here.
Tags:
browsers
,
Firefox
,
internet explorer
,
Mac
,
opera
,
Safari
,
Windows