When it comes to developing websites, there are a lot of tools that are needed. To start, you'll need an HTML editor and a utility for uploading your files to the internet. But once you start adding specialized functionality to your website or dabbling in design, you'll need a whole lot of other tools. And if you plan on buying the current tools on the market, you'll rack up a large tab very quickly. So we take advantage of great FREE software whenever we get the chance.
Here are three FTP clients that we like.
WinSCP
WinSCP is an FTP and SFTP Client for Windows.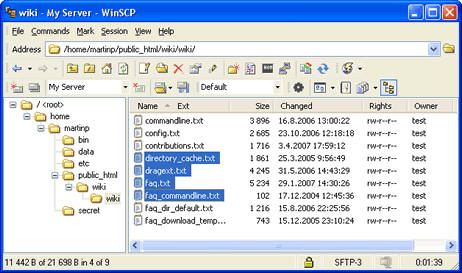 If you use Windows Explorer for FTP, you'll be very familiar with the WinSCP interface. But one great feature of this program is that it also enables SFTP, the Secure File Transfer Protocol.
Cyberduck

Cyberduck is one of the best free FTP/SFTP clients for Mac. In addition to the two file transfer protocols, it also features WebDav and the Amazon S3 browser. And like WinSCP, it is also open source.
Visit the Cyberduck website for a full list of features.
FileZilla
FileZilla is perhaps the most well-known FTP client. And it is cross-platform! It runs on Windows, Mac OS X, Linux, and BSD.

Stay tuned for our other free software recommendations. And let us know the free software programs that you like.
Tags:
browsers
,
FTP
,
Linux
,
Mac
,
open source
,
software
,
Windows