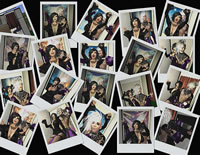 One big reason that many people do not use images in their blogs and websites is that they do not want to pay for them. After all, if you plan on buying royalty free images, you might find yourself paying several dollars per photo. And if you are a blogger, this might not be a realistic expense, especially if you plan on adding images to every post. (Image Credit: ?Newdoll?)
Fortunately, there is a very easy solution: Flickr.
Using Images from Flickr
Flickr, a popular photo sharing website, enables users all around the globe to upload and share their photos with the world.

The best thing about Flickr is that you can search for and use most of the images on your own website, provided that you follow the usage and attribution guidelines. In most cases, for example, this means that you simply need to provide a link to the image owner's Flickr profile. And that's it. Free images for your use!
And if you run a WordPress driven website, adding images is even easier with the Photo Dropper plugin.
Photo Dropper Flickr Plugin for WordPress
Recently, I stumbled across this very useful WordPress plugin. It brings Flickr directly to your WordPress post-editing dashboard. Without ever having to leave your blog, you can search and insert Flickr photos, along with the attribution link.
Want to learn more? Visit the Photo Dropper plugin homepage.
Tags:
flickr
,
stock photos
,
WordPress