This morning, when I went to the Google homepage to perform a search, I noticed one new thing. There are now AJAX features which attempt to 'guess' your search term.
Take a look at the screenshot below.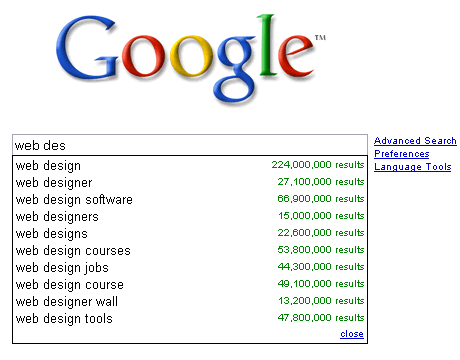 One thing that I couldn't help but notice is that I have seen this feature on other search engines. The first that comes to mind is Cuil, which is made up of some former Google employees and was launched a little over a month ago as a direct competitor of Google. And while Google hasn't been seriously threatened by Cuil, or any other search engines, perhaps this is an attempt to maintain their marketshare.
Other search engines which use this feature include Yahoo and Ask.
What Do I Think?
This AJAX search feature is a good thing. Previously, I performed most of my queries using an addon Toolbar because of the 'guessing' feature. But now that this feature is an integral part of the home page, the toolbar isn't necessary. Additionally, this feature goes farther than both the Cuil search field and the Google toolbar because it also displays the respective number of results for each term in the list.
However, this feature does leave a bit to be desired. First, it doesn't remember previous searches. And second, it is only accessible from the home page. If you use a search field on a results page or any other Google page, there are no nice AJAX features to be found. …I guess that means it's back to the toolbar.
Given the latest flux in the search engine industry, search engines are always looking for ways to improve their user interface. I am looking to see some more exciting changes from Google in the future.
Tags:
Google
,
search engines