A while back, we highlighted some of the most annoying website features. These included things like pop-up windows, excessive animations, and slow-loading pages.
We thought that our list was pretty complete. But apparently it wasn't. Lately, several other equally annoyed bloggers have also chimed in with a few things that they'd like to change to help make the web a less irritating place to be.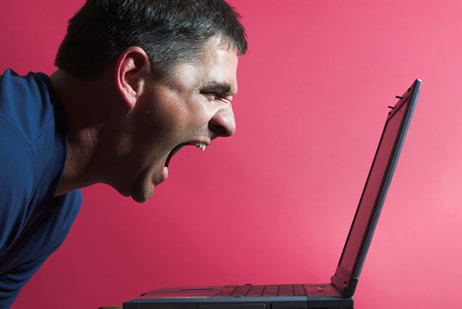 Here are a few more things that are irking web surfers today.
1. The Captcha that Successfully Thwarts ALL Attempts to Comment
On most blogs, user-submitted comments are not immediately visible on the website. Instead, they are held in a queue until they are a approved by a moderator. But as you can imagine, moderating comments can be a lot of work, especially if a blog is popular.
On the other hand, it is not a good idea to allow ALL comments to be approved without moderation, because the blog may be exploited by spambots (programs that automate the submission of spam content via web forms). So some blog administrators have decided to add captchas to their comment forms. (A captcha is a 'special test' that is used to prevent automatic submission of forms by spam programs.)
Unfortunately, some captchas not only stop spambots, but they also stop humans. And therein lies the rub.
Gerald Weber, over at SEM Group, wrote about this topic in a great article entitled "Is Your CAPTCHA Killing Your Business?". In his article, he compiled some advice and opinions from a variety of website owners on the subject, some of which use captchas themselves
You should also check out a rather impassioned article by Dennis of Direct Sales Web Marketing entitled "Why You WILL Lose My Comment – Possibly My Subscription".
2. Unnecessary Clutter with Social Bookmarking Icons
Another annoying feature is the overuse of social bookmarking icons. And we'll hang our heads in shame on this one, because not so many months ago, we were running a nice little button circus over here, with every imaginable social bookmarking icon prominently displayed beneath each post.
Lorelle VanFossen, popular blogger and author, recently published a post at The Blog Herald, entitled "WTF: Blog Clutter: Bookmarking and Site Submission Icons".
We all want our websites to be popular and by making it easier for visitors to bookmark our articles, there is a higher chance that they will be shared. However, instead of displaying every button, why not look at your stats to determine which social bookmarking websites are sending you the most traffic. After all, unnecessary buttons may lead to confusion and clutter.
3. Pop-ups revisited
We spoke about JavaScript pop-ups in our past article, but since then, we've noticed the move to a new kind of pop-up. These are the lightbox-style pop-ups that often "gray out" a page, or prevent you from using a page, until you make some kind of response to the offer.
And while there are a countless number of bloggers up in arms about these pop-ups, we've decided to highlight Adam Singer over at The Future Buzz. In his article, "No-Permission Pop-Up Subscriptions Are A Bad Idea", he lists some key reasons why pop-ups might be bad for your website. He even cites a poll by Daily Blog Tips which concludes that 36% of visitors may stop visiting a website with pop-ups.
Unfortunately, pop-up ads have been proven effective in building mailing lists and subscribers, as well as increasing conversions. So while we hope that you decide not to use pop-ups, we won't fault you if you do.
4. A Holiday or Seasonal Hodgepodge: Animations, Music, etc…
This last item is brought to you by Thord Daniel Hedengren. Over at Devlounge, he wrote a great article entitled, "The Fun Is Over: Remove Those Falling Snowflakes Now". His article is basically a plea to all webmasters, asking them to reconsider their choices when it comes to seasonal enhancements. It is great to dress up a website, but make sure that your holiday flair doesn't detract from the site and hurt the user experience.
Alright, we're done. What other annoying items would you like to eliminate from the web?
Tags:
captcha
,
JavaScript
,
social bookmarking