Uber surprised many hopeful users when it announced that it would not be shutting down as planned. Apparently, they were able to secure some much needed financing from sharenow.com and are now able to keep Uber alive for at least one more month.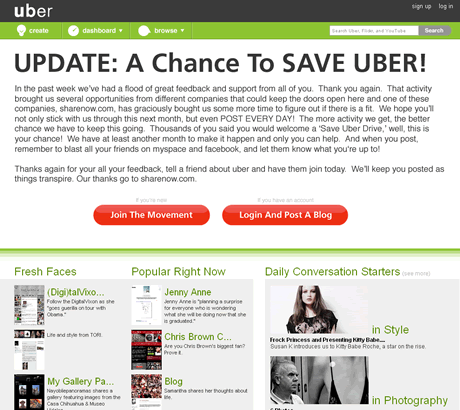 In this most recent announcement, Uber sent out a plea to the community asking them to use the service more regularly and spread the word, hinting that the more activity that they get on the website, the more likely they will be able to maintain the service in the future.
Either way, we are still big advocates of hosting your own website. Although Uber does provide a great and free service to its users, if it were to stop, its users would be stranded, many unable to retrieve all of their content and files. By hosting your own website, you are always able to retain full control of your data. It might be an added expense now, but it is usually worthwhile down the road.
For information on web hosting, read our articles Web Hosting We Like and Heartily Recommend and 6 Reasons To Host Your Own Blog .
Tags:
blogs
,
shared hosting