One common problem with moving WordPress to a new domain or directory is that updating the settings does not update the permalinks or urls embedded in the content. This means that images and other uploaded content will not show up!
This plugin fixes that problem. It updates all urls and content links in your website to reflect the move to the new domain or directory.
Download the Update URLs plugin
Current stable version: 3.2.2
Compatible up to WordPress version 3.9
Features
Choose to update links embedded in content, excerpts, or custom fields
Choose whether to update links for attachments
View how many items were updated
Screenshot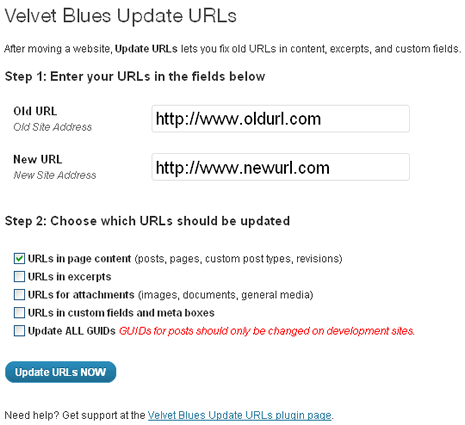 Installation
You can use WordPress' automatic install or follow the manual instructions below.
Download the plugin and unzip.
Put the velvet-blues-update-urls folder in your wp-content/plugins folder.
Activate the plugin through the WordPress admin.
Access the plugin by going to Settings -> Update URLs.
FAQs

Do I need to approve each change? Or does the plugin update all urls at once? The plugin updates all urls at once. However, the next version will give you the option to 'Replace All' or selectively replace/edit some urls.
What do I do if it doesn't work? Verify that the urls that you entered are correct and try again. If it still doesn't work, post a comment to ask for support. Note: URLs are only replaced if an exact match is found. (Matching is case-sensitive.)
Why aren't the urls in my navigation updated? Depending on the settings of your theme, the 'root domain' of your urls may be controlled by the url addresses that you've set in your site settings.
Can I deactivate the plugin when I'm done? Yes. All changes are permanent. After using the plugin, you can safely deactivate and remove it.
To Do
Add additional options for capitalization and case-insensitivity.
Additional options for custom fields. Done!
Language support. Done!
Get hosted by WordPress.org  Done!
Donate
Was our plugin useful? Please make a donation to fund this and the development of other plugins.
Support
For help with this plugin or suggestions, leave a comment below. For more general information on moving WordPress, check out our comprehensive guide.
WordPress Move Service – ONLY $65
Want us to move your site for you? We charge $65 and guarantee satisfaction. Contact us at info@velvetblues.com and we will respond to your inquiry within 24 hours, on typical business days.
Change Log
3.2.2 – Confirmed compatibility with latest releases, relocated Update URLs tab to Tools section, and added serialization checks for post meta.
3.2.1 – Added Turkish language file and miscellaneous bug fixes.
3.2 – Confirmed compatibility with WordPress 3.6.x releases, added option to search within links, and updated success and error messages.
3.1 – Confirmed compatibility with WordPress 3.5 release.
3.0 – Confirmed compatibility with latest WordPress release, redesigned interface, added ability to update links in custom fields, improved security, added error messages, updated license, added detailed results messages, fixed typos, and added international language support.
2.0.1 – Confirmed compatibility with WordPress 3.1.x releases. Updated FAQs and Contributors.
2.0 – Simplified admin screen and added the ability to update links in excerpt fields. Updated code for full compatibility with WordPress 3.0 releases.
1.0.3 – Confirmed compatibility with recent WordPress releases.
1.0.2 – Fixed PHP short tag problem, so as to be compatible with all configurations.
1.0.1 – Eliminated conflicts with other plugins due to naming conventions.
Tags:
links
,
urls
,
WordPress